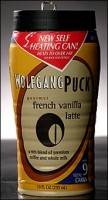 The first line of this New York Times article sums it up best: "…some innovations are like Post-it notes: you didn't know you needed them until they were invented." As a coffee addict, I always have an eye out for articles on coffee, specifically caffeine. I think I'm looking for pro-caffeine articles to use as ammunition against well meaning family members who tell me I'm drinking too much java. I did find an interesting coffee article today, but it has nothing to do with any purported health benefits (oh, yes, coffee has many).

Wolfgang Puck has introduced a new line of drinks – a self heating latte in a can. The canned latte will cost around $2.25 for a 10 ounce can. The little guy is heavy though, weighing in at 1 pound 2 ounces. And from the review in the Times, the taste is not that great.
The coffee, which comes in four flavors, goes on sale at Kroger grocery stores this month and will eventually move to other retailers.

It took a California company named OnTech seven years and $24 million to create the self-heating cans, which are activated by pushing a plastic button on the bottom. Water flows into a sealed inner cone filled with quicklime, which is mostly calcium oxide. A chemical reaction heats the coffee to a pleasant 145 degrees in six to eight minutes, the amount of time it might take to order, pay for and receive a latte from a barista.
At first I thought this may be a nice drink to through in my pack when I'm out for a day of climbing. Take a break, kick back, and pop open a hot can of latte for an afternoon pick me up. But at that weight, it limits its uses to the kitchen or in the car. Nonetheless, its a nice little application of technology that will be appreciated by many coffee addicts.